I TRIED FOR A LONG TIME TO 'BE NORMAL'
I just wasn't.
I always felt like I was on the outside looking in. A fly on the way.
I also wished I was psychic and could get guidance from 'some where else'. I thought this might make me seem weirder, but in a way, make me stand out in some way. You know, make me likable, and feel like enough.
I always loved the psychics I saw at carnivals wearing the scarves and reading tea leaves. I thought it was really cool. I wished I was more like them. People flocked to them and noticed them!
I'm a Computer Science graduate and was working as a Web Developer in my 30's. After almost 10 years, I found myself extremely ill with an auto-immune disease, Graves' Disease of the thyroid which I no longer associate with, chronic headaches and digestive issues, among other things.
I knew in my heart this particular 'normal' path was not for me.
Sitting at a desk all day, working for someone else, and doing a lot of things I didn't like… they were making me ill. I learned a lot about the Law of Attraction from this experience, though. For that, I'm truly grateful!
I made a significant career change to massage therapy.
I was already teaching yoga and fitness classes so it wasn't quite as far a stretch as it seems. Besides, I'd thought about massage therapy as a career when I was 18, so why not go back to something I desired?
Perhaps if this was THE path for me, my purpose, I'd still be active in this field. It was not, but it was certainly a stepping stone along the way.
While working as a massage therapist, I realized I was reading my client's energy, their minds (that was a little scary at first) and also using them as filing cabinets.
When a client came into the office, I would often not recognize them, or remember their name. It was a little embarrassing. About 15 minutes into the treatment, I'd remember way more information than I realized I knew about the client. Where they worked, if they were married with kids and pets, what we worked on during the last two or three treatments, and even what events were coming up for them (some they hadn't mentioned to me but I knew).
It was bizarre but also very cool! I decided to expand these gifts.
WHAT COURSES DID I TAKE TO EXPAND MY GIFTS?
I've always been a reader. I've read many books on intuition, psychic skills, mediumship (connecting to Loved Ones who have passed over), the Akashic Records (the Book of Life), and more. I also love Astrology, Numerology, Tarot and Oracle Cards, Human Design, Enneagram and several other systems for learning more about the Self.
I believe knowledge is power.
I also learned from a mediumship course with the well-known psychic and medium, John Holland, that the more information you know, the more information your Spirit Guides, Teachers, Angels, Ascended Masters and Loved Ones have access to in order to help you share the wisdom your clients need.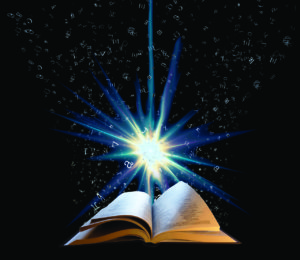 I studied the Akashic Records with a couple of different teachers, and became a Soul Realignment Practitioner. The Akashic Records are the 'book' that resides in the ether around us containing all the information available about every soul who's ever existed, in every incarnation.
Some see this as a giant library surrounding us that we can't see with our human eyes, holding a book for each person.
As a Soul Realignment Practitioner, I help guide you back to who you truly are at Soul Level. This can activate your purpose, innate gifts and talents, your health, money and relationships, and also your ability to manifest more easily. I also call in information about how you were created (which tells you how you most easily create) and how you manifest based on your own Manifestation Blueprint.
My talents as a psychic can be prophetic (forecasting the future), but often they bring up things from the past, including past lives and patterns carried forward from your ancestry, that are ready to be healed.
I truly believe that we create our own realities. If we're capable of creating debt, relationships that don't work out, and auto-immune conditions, then surely we're just as capable of creating love, money, vibrant health, exciting adventures and many other things.
I decided to learn more about manifesting.
Manifestation is the creation of things (wanted and unwanted) into this physical reality.
How do you manifest? Through leveraging your thoughts, beliefs and actions, and the Universal Laws.
I was so drawn to the subject of creating my own reality using the Universal Laws that I did an entire coaching program on it and became a Certified Law of Attraction Coach.
I'm expanding my gifts even more now, to help you heal quickly and easily, in 1-3 sessions that are approximately 90-minutes long.
WHAT'S MY GOAL FOR YOU?
It is my purpose to help you:
heal
create a deep relationship with your Higher Self that you trust, and
expand your psychic and intuitive gifts.
When you learn more about yourself, you can create (manifest) the life you want, in any and all areas of life.
If you don't know what you want, I'm quite skilled at helping people decipher this.
What do I mean by that? Many times we have goals that we think we 'should' attain, or things we desire to do for other people. Those goals can feel like a struggle to accomplish because our hearts are not in them.
I desire for you to know in your gut and in your heart what YOU want and to help you achieve it!
How can you start?
Decide that it's time to clarify and call in your own desires.
Allow yourself to be a little selfish. Put your own goals, health, and desires first.
Speak to yourself with love; be your own cheerleader.
Hold yourself accountable. If you won't, who will?
Learn as much as you can about yourself. Your Astrology, Numerology, Life Path, Human Design, Enneagram, etc. and learn to leverage the Universal Laws so you work with them, rather than against them.
Spend 5-10 minutes a day meditating in silence. This can quiet your mind and help you decipher what you want.
Ask for help when you need it. I'm here to help if you're ready.
Book a Transformation session with me: http://Sherri.as.me
We all have the ability to call in Inner Wisdom and our unique gifts. Yes, that means you can, too.
Namaste.
Sherri :O)
SHERRISIMPSON.com
*If I resonate with you and you prefer email, please connect here: sherri@sherrisimpson.com